Caprese Salad with White Balsamic Reduction
Caprese Salad with White Balsamic Reduction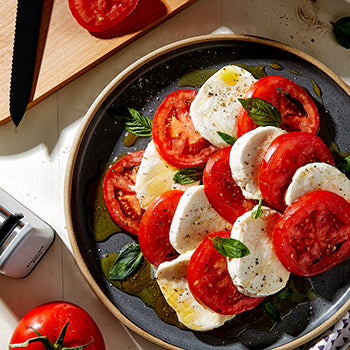 Ingredients
1 cup white balsamic vinegar
3 large tomatoes or 4 medium, cut into 1/2" slices
1 pound fresh mozzarella, cut into 1/4" slices
1 cup fresh basil leaves, julienned
Salt and freshly ground pepper, to taste
Extra virgin olive oil
Directions
Place balsamic vinegar in small skillet or saucepan.
(Vinegar will reduce quicker in skillet due to more surface area on bottom)
Bring to a gentle boil over medium heat.
Keeping an eye on the vinegar, cook until it has reduced down to 1/4 cup.
This will take 5-10 minutes or so depending upon size of pan.
Cool and store in refrigerator until ready to use.
Keeps several weeks, covered.
Arrange alternate slices of tomatoes and cheese on a serving platter.
Sprinkle with salt and pepper.
Drizzle with olive oil.
Drizzle with balsamic reduction.
Scatter julienned basil over all.
Serves 4.