Grilled Flat Iron Steak with Herbs & Romano
Grilled Flat Iron Steak with Herbs & Romano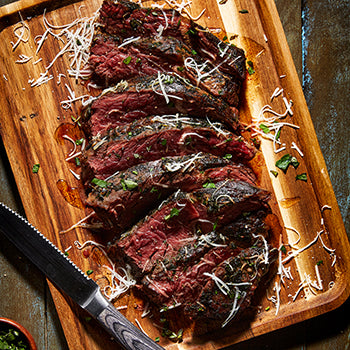 Ingredients
1-1/4 to 1-1/2 pounds flat iron steak
Extra virgin olive oil
Palmful each fresh parsley and basil, minced
1 tablespoon fresh thyme, minced
1 teaspoon fresh marjoram or oregano, minced
2 cloves garlic, minced
1/2 teaspoon salt or to taste
1/2 teaspoon freshly ground pepper
1/2 cup Pecorino Romano cheese, shredded
Directions
Trim any silver skin from meat.
Score each steak 1/8" deep on both sides. Make 4 scores on each side.
Rub a small amount of olive oil on both sides.
Mix together parsley, basil, thyme, marjoram, garlic, salt and pepper.
Pat mixture evenly on both sides of steak.
You can either grill immediately or place in covered container in refrigerator up to 24 hours.
Grill over medium high for 5 minutes per side for medium, presentation side down first.
Flip once during grilling.
Let rest a few minutes to distribute juices.
Sprinkle with cheese, cut in thin slices on the diagonal, and serve.
Serves 4-5.