Mediterranean Roasted Beef Tenderloin
Mediterranean Roasted Beef Tenderloin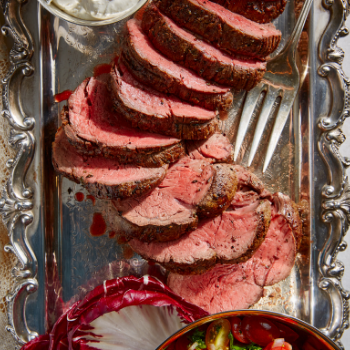 Ingredients
3-4 pound beef tenderloin, trimmed and tied (weigh after trimming)
1 tablespoon Kosher or sea salt, or to taste
1-1/2 teaspoons freshly ground black pepper, or to taste
1 teaspoon dried thyme
Olive oil
Directions
Place a rack on a sheet pan and set aside.
Preheat oven to 375.
Season beef all over with salt, pepper and thyme.
Film the bottom of a large skillet with olive oil.
Heat oil over high heat and add beef. Brown beef on all sides.
Place browned beef on rack and roast until thermometer registers
130-140 degrees for medium, about 30-40 minutes or so.
Test after 30 minutes and roast longer if necessary, or if you want the tenderloin more done. Insert thermometer into thickest part of beef.
Remove from oven and tent with foil for 10-15 minutes. Internal temperature will rise a few degrees.