Sirloin Tip Roast
Sirloin Tip Roast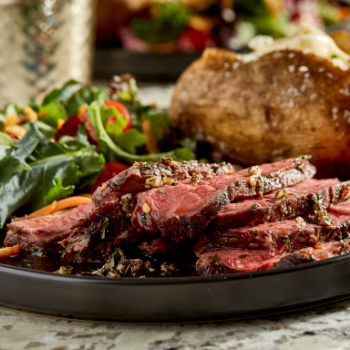 Cook Time
2 hours 30 minutes
Ingredients
3 pounds sirloin tip roast, tied

Herb "crust"
1-1/2 teaspoons each: salt and freshly ground black pepper
2 teaspoons each: dried oregano and dried basil
1/4 teaspoon crushed red pepper
3 cloves garlic, minced — a good tablespoon or more
Palmful fresh parsley, minced

To pour around roast
Beef broth or red wine (a generous cup or so)
Directions
Take the roast out of the refrigerator 1-1/2 hours before roasting, but leave it wrapped. This allows it to come to room temperature without dry-ing out, resulting in a very juicy roast. Unwrap and pat dry.
Mix together ingredients for herb "crust".
Preheat oven to 250. (No, that's not a mistake!).
While oven is preheating, film the bottom of an oven proof, heavy pan with olive oil. Heat on medium high until the oil just starts beginning to smoke.
Put the roast in the pan, turning to sear to a nice brown on all sides.
Rub the roast evenly with the herb "crust".
Put back in pan and pour broth or wine around it.
Roast for 1 hour and 30 minutes or until it reaches 130 degrees.
Turn off the oven and leave the roast inside and don't open the door.
After 30-40 minutes, check the temperature. It should read 140-145 for medium. Remove from oven and let rest, tented, 10-15 minutes.
Remove ties before slicing with sharp knife into thin slices. Drizzle with accumulated juices.