Turkey Breast with Bourbon Glaze
Turkey Breast with Bourbon Glaze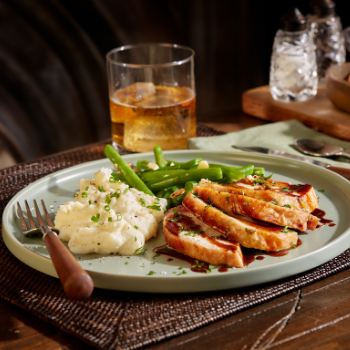 Ingredients
1 turkey breast, bone-in, 5-7 pounds
Salt and freshly ground pepper
1/2 cup Dijon mustard
1/2 cup dark or light brown sugar, packed
3 tablespoons bourbon, or to taste
1 tablespoon butter, melted
1 cup low sodium chicken broth or stock
Directions
Preheat oven to 325 degrees.
Pat breast dry.
Loosen skin by working from the neck end. Gently slide your fingers under the skin until you reach the other end.
Sprinkle a generous amount of salt and pepper under the skin, in the cavity and all over the outside. Poultry tends to be bland on its own, so seasoning is important.
Whisk mustard, brown sugar, bourbon and butter together.
Remove 1/4 cup and set aside. This will be added to drippings to make a sauce.
Place breast in sprayed baking pan.
Brush glaze inside the cavity, under the skin and all over the breast.
Pour 1/2 cup broth in the bottom of the pan. If necessary, add more as meat cooks so that you have enough drippings to make a sauce.
Roast until thermometer reaches 160, brushing with glaze every 30 minutes. Count on approximately 20 minutes per pound. Check temperature toward end of roasting time.
Remove from oven, place on platter and tent with foil 15-20 minutes.
Internal temperature will rise to 165 degrees, which is the recommended temperature by USDA. This also allows juices to redistribute throughout the meat.
While turkey is resting, place baking pan over medium heat.
Bring drippings to a gentle boil, then whisk in reserved 1/4 cup glaze, pulling up brown bits from the bottom as you go. Cook until it thickens a bit, and serve alongside the carved turkey.