A Favorite German Krumkake
A Favorite German Krumkake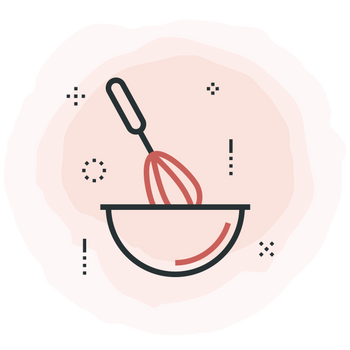 Yields
Makes about 15 Krumkakes.
Ingredients
2/3 cup water
¼ cup butter (½ stick)
½ cup granulated sugar (or slightly more for taste)
1 cup general purpose flour
1 egg
½ to 1 tsp. vanilla
Directions
1. Boil the water. While it is cooling, add ½ stick butter to water and stir to melt the butter completely.
2. Add ½ cup granulated sugar to water while still warm and stir to dissolve. Allow to cool.
3. Add one cup of general purpose flour and 1 egg to the mixture. Mix thoroughly while adding ½ to 1 teaspoon vanilla. This mixture will be relatively thin and will produce a thin, crispy Krumkake.
4. If using the KrumKake Express™, start with the Color Control Dial at 2½. Use approximately 1½ tablespoons for a full 6" wafer.
5. Spoon the mix onto the heated plates when "Ready" green light is ON. Lock the lid latch. The green light will go OFF in about 30 seconds and the red "Baking" light will come ON. The green light will come ON again in about another 30 seconds.
6. Open the lid of the KrumKake Express™ and inspect the wafer. Bake longer if needed to reach a golden brown color. Readjust the Color Control Dial if necessary to obtain a total bake cycle of about 80 seconds and a golden brown color.
7. Remove the wafer from the KrumKake Express™ and roll quickly (while hot) around the Cone Form.
All other Krumkake makers; bake according to your manufacturer's instructions.