Grace Young's Spicy Stir Fry Chicken Salad and Stir Fry Tips
Grace Young's Spicy Stir Fry Chicken Salad and Stir Fry Tips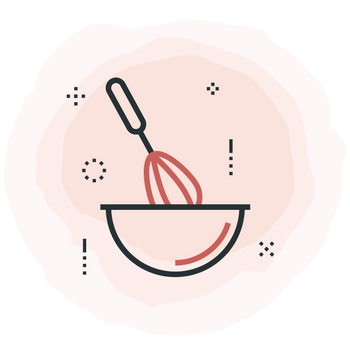 Ingredients
1 lb. skinless, boneless chicken breast, cut into ½-inch-thick bite-sized slices
2 tsp. plus 1 Tbsp. peanut or vegetable oil
1-½ tsp. cornstarch
1 tsp. plus 1 Tbsp. soy sauce
1 tsp. plus 1 Tbsp. dry sherry
½ tsp. freshly ground pepper
¼ cup chicken broth
1 Tbsp. minced garlic
1 medium red bell pepper, cut into ¼-inch wide strips, about 1-1/3 cups
1 medium zucchini, cut into ¼-inch thick half-moon slices, about 1-½ cups
1 Tbsp. Sriracha chili sauce or ½ tsp. red pepper flakes
½ tsp. salt
½ cup thinly sliced scallions
4 cups salad greens
Directions
Spicy Stir Fry Chicken Salad
1. In medium bowl combine chicken, 2 tsp. of the oil, 1 tsp. of the cornstarch, 1 tsp. of the soy sauce, 1 tsp. of the sherry, and pepper. Stir. In small bowl combine broth, remaining 1 Tbsp. soy sauce, sherry, and ½ tsp. cornstarch.
2. Heat wok over high heat until a bead of water vaporizes within 1-2 seconds of contact. Swirl in remaining tbsp. of oil, add garlic, then, with metal spatula, stir-fry 10 seconds until fragrant. Push garlic to wok sides, carefully add chicken, spreading evenly in one layer. Cook undisturbed 1 minute, letting chicken begin to sear. Stir-fry 30 seconds until chicken is almost opaque. Add bell pepper, zucchini, chili sauce, salt, and stir-fry 1 minute until peppers begin to soften. Re-stir cornstarch mixture, swirl into wok, add scallions, and stir-fry 1 minute until chicken is just done and vegetables are crisp-tender. Divide salad greens on 4 dinner plates. Spoon warm or room temperature stir-fry mixture over greens. Serve with crusty bread.
Grace's Stir Fry Tips
1. "Stir-Fry Guru" Grace Young serves up stir-fry essentials and a winning recipe to celebrate the season. "Summer is the best time to stir-fry when vegetables are bursting with flavor," says Young. "The quick cooking over high heat accentuates the natural character of vegetables without the need for heavy seasonings."
2. Fresh ingredients and stir-fry fundamentals provide delicious results. Young, critically acclaimed author of "Stir-Frying to the Sky's Edge" and "Breath of a Wok," offers these tips:
3. Always use the correct pan (14-inch flat bottom carbon steel wok or a 12-inch stainless steel skillet, avoid nonstick pans due to high temperatures needed for stir-frying)
4. Invest in a high-quality sharp knife (chef's knife or Asian cleaver)
5. Properly maintain your knives. Dull knives make cutting thin slices of chicken or fine scallion shreds an irksome chore.
6. "I use this knife sharpener to get my knives super sharp and apply the correct edge angle on both Asian and Western style knives," says Young. Slicing and dicing is effortless with a sharp knife. The multi-staged Chef'sChoice® AngleSelect® Model 1520 is designed to quickly and easily restore 15 degree edges on Asian style knives and 20 degree edges on European/American knives. Knife guides position the blade, 100% diamond abrasives and a flexible polishing disc create a "gothic arch" edge structure recognized for sharpness and durability.
7. With just a few essential tools, you're ready to serve up the season's bounty stir-fry style. This simple and delicious recipe is so easy that "you'll be out of the kitchen in 25 minutes with less than 4 minutes at the stove," Young adds.