Lemon Blueberry Sauce for Waffles
Lemon Blueberry Sauce for Waffles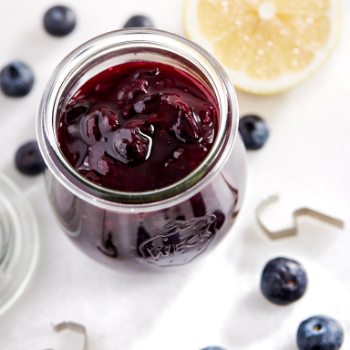 Ingredients
Lemon Blueberry Sauce Ingredients
2 cups blueberries, fresh or frozen
2 tablespoons cool water plus 1 cup water, divided
1 tablespoon cornstarch
1/3 to 1/2 cup sugar or honey, or more to taste
Juice of 1 lemon
Directions
Lemon Blueberry Sauce Instructions
If blueberries are frozen, thaw slightly.
Whisk together 2 tablespoons water and cornstarch. Set aside.
In saucepan, add blueberries, 1 cup water and sugar.
Bring to a boil over medium heat, stirring occasionally.
Reduce heat and simmer 5 minutes.
Whisk in cornstarch mixture and stir until blueberries start bursting open and mixture thickens.
Stir in lemon juice.
Store, covered, in refrigerator, up to 3 weeks, or freeze up to 3 months.
Warm before using.