ORZO SALAD WITH GARDEN VEGETABLES AND LEMON VINAIGRETTE
ORZO SALAD WITH GARDEN VEGETABLES AND LEMON VINAIGRETTE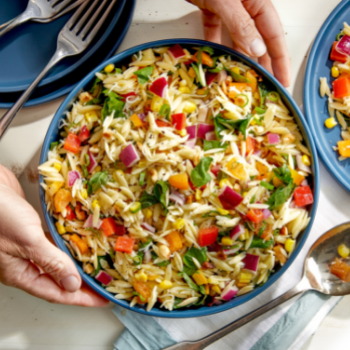 Ingredients
1 cup whole wheat or regular orzo pasta
1 clove smashed garlic
1 cup diced red onion
1 cup fresh corn kernels or equivalent frozen
1 diced red or orange bell pepper
1 bunch thinly sliced green onions, green part only (may not use all)
1-1/4 cups chopped dried apricots, currants, or golden raisins
1 cup toasted chopped hazelnuts, pine nuts or almonds plus extra for garnish
Handful fresh basil, torn coarsely
1 cup Swiss chard or Arugula, cut into small pieces if necessary
Salt and freshly ground pepper to taste
8 oz. shredded Italian cheese blend
Directions
Cook orzo according to package directions, but before you bring water to a boil,
add a smashed clove of garlic to water for flavor along with salt.
Drain and remove garlic.
Cool a bit then toss with everything but cheese.
Go to taste on the green onions.
Set aside while making dressing.